pet portraits
Many people have experienced the bond of having a dog and the memories that we cherish over the years. As dog owners ourselves, we understand the impact they have on our lives so we decided to create a way for them to always be around. Our custom pet portraits are a timeless piece that embraces this concept. We use your favorite photos of your four legged friend and choose unique lines of the face to fabricate a metal wall hanging portrait.
These are a few examples of the dog portraits we have made,an American Bulldog, Staffordshire Terrier and a Boxer. We use various lines to create features that are unique to the dog. The name below is an option we offer, you can choose to have it cut out in the collar area or it can be in a bone shape below.
custom pet portraits range from $45-$65
Small breed dogs $45
Large breed dogs $55
ADD
name for $10 or leash hook for $5
Are you one of those special souls who have more than one pet? We can offer you a discount on orders of 2 or more portraits.
Need to organize your pet supplies?
Our pet portraits with a leash hook make for a perfect solution.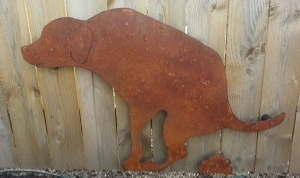 One of our fabulous clients came to us with the idea of making a silhouette of her lab taking a poop. She wanted to place it on her art fence to appear as a shadow. Of course, we just couldn't say no - we went with a 2ft in height rusted silhouette with 2 inch spacers on the back. Needless to say, this was a well received gift.
Contact us about sign ideas and we will get back to you with a quote.
For more information regarding custom pet portraits, please fill out the form below.
© 2015 Oberaw Industries. All Rights Reserved